Pit Señor!
If you go to the famous Sinulog Festival in the Philippines, you will hear this saying a lot. In Cebuano, it is translated as "Sangpit Senor," meaning "to call, entreat, and appeal to the king".
The Sinulog Festival is held on the third Sunday of every January in Cebu City. People come from all over the country (and even the world) to the "Queen City of the South" just to witness this prestigious celebration. There are even smaller versions of the Sinulog Festival held in smaller communities, including a float procession and street dancing.
In this article, we're walking you through the most famous festival in the Philippines and the reasons to experience it in all its splendor.
What is Sinulog Festival?
"Sinulog" comes from the Cebuano word "sulog," which means "like water current movement." The forward and backward motion in this animation represents the steps of the Sinulog dance we see on the streets. The festival is also called the Santo Niño Festival because it is held in his honor (Child Jesus).
In 1521, the Portuguese navigator Ferdinand Magellan sent Rajah Humabon of Cebu a relic known as the Santo Niño, also known as the Santo Niño de Cebu. It was a major turning point in the country's history that made it possible for Christians to spread across the country, baptizing over 800 people.
Image from MyCebu
The Sinulog Festival has grown into a month-long festival in Cebu over the years. However, the highlight of Sinulog is the Grand Parade, taking place every year on the 15th of January.
Tourists wouldn't want to miss the chance to witness the festival as it got more and more popular each year and became more and more commercialized. Apart from traditional dances and costumes, the festival has expanded to include other types of competitions, such as art shows, beauty pageants, picture contests, and even talent shows. Participants may also join the festival's many other events, including concerts, cultural displays, fireworks displays, fun runs, and street markets. Proof of the festival's enormous impact is how it inspired Filipinos living in New Zealand to have their own annual celebration of the holiday for the last 18 years. The Association of Southeast Asian Nations also named it their "City of Culture" (ASEAN).
This big event, along with Cebu's stunning beaches and historical landmarks, continues to be the island's most popular draw because of the large number of visitors that come to experience the traditional celebration and the beauty of the culture it symbolizes.
Viva Pit Senyor!: 5 Reasons You Shouldn't Miss Sinulog 2023
Those who haven't visited Cebu by plane may wonder why they should make the effort. What makes Sinulog worth attending? Here are 5 reasons to book a flight to Cebu for the Sinulog experience.
Street Parties and Concerts
You may find street parties and live performances almost everywhere in Cebu, both before and after the Sinulog Grand Parade (especially in the evenings).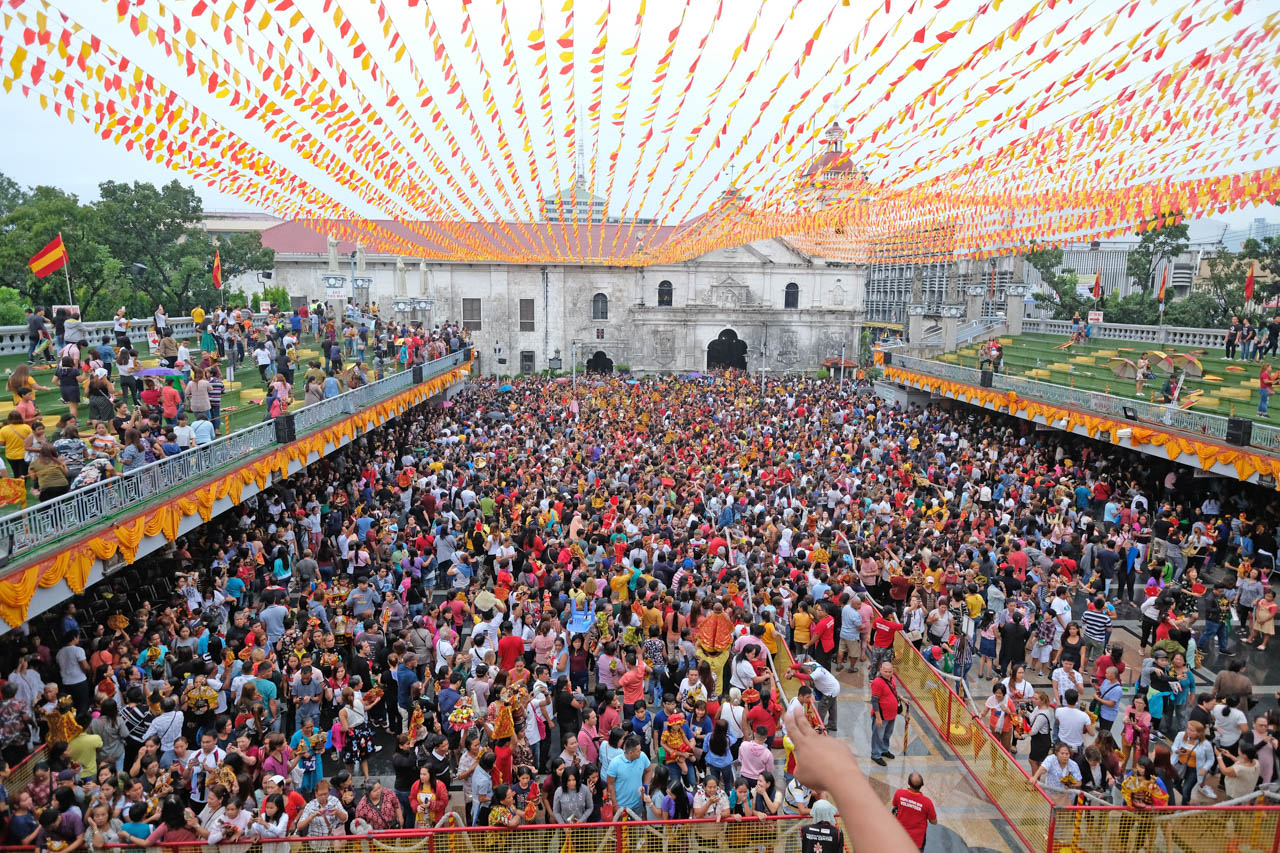 Image from Rappler
In such a case, we suggest you wear loose clothing, paint your face, and be ready to down some beer. Most people choose to gather on the streets, while some may go to locations such as Mango Square, Baseline, or Fuente Osmea to party until the early morning.
Sinulog Fireworks
The Sinulog Grand Parade in Cebu City always concludes its festivities with a stunning fireworks show.
At 9 o'clock in the evening, the Cebu Business Park at Ayala Center Cebu hosts a magnificent fireworks show. It would be ideal if you could stay in the condo of a friend who is Cebuano or Cebuana, as it would provide you with a breathtaking panorama of the surrounding area. You may also see a wonderful display from the ground if you choose.
Cebuano Culture
Everyone, even introverts, enjoys making new connections and gaining knowledge from others. Everyone has to branch out every once in a while and experience something different. Joining the Sinulog Festival is the best way to soak up and appreciate the culture of the Queen of the South.
Cebu Food
Image from Booky
One of the best ways to appreciate a place's culture is through its food, and Cebuano cuisine needs no introduction. You won't leave Cebu without having experienced the very best the city offers. Participants will prepare a banquet of traditional Cebu dishes (danggit, dried mangoes, Chorizo, Otap, and Bibingka, to name a few). Mangaon ta!
Cebu City Activities
There will be a lot of exciting events and activities at the Sinulog Beach Festival. If you like doing things that involve water, you're in for a real treat here. Water rides like the Banana Boat and the Sidewinder, as well as jet skiing, wakeboarding, parasailing, kayaking, and lots more, will be available to visitors during the festival.
Besides the games that take place in the water, the organizers of the beach festival have also organized games and activities that take place on land for all the guests. During the celebration, people can get their faces painted, get a henna tattoo, and play different carnival games.
5 Travel Tips to Observe When Attending Sinulog
Fly in earlier
Avoid making travel plans on the day of Sinulog. Starting 9:00 AM, most roadways in Cebu City will be blocked. If you plan on arriving on Sinulog Day, you should be prepared to spend hours lugging your luggage around before you can check in at your hotel and miss out on the festivities.
Book Your Accommodations in Advance
Image from TTG Asia
Book your hotel room before August to get the best rate. There will be so many people in town for Sinulog that hotels will be completely booked before October. The ideal places to stay in Cebu are downtown, where the parade will be only a short distance away from any of the hotels.
Wear Your Most Comfortable Clothes
Put on the disposable top and bottoms. When a major procession takes place, the crowd goes absolutely crazy. You won't only sweat it out in the heat; strangers will also drench you with beer or water. Be ready for a surprise color war (color powder) to break out in the center of the crowd and for individuals to smear face paint on you. TIP: wear something white to help the colors stand out!
Bring Your Essentials
The streets around the procession route will be blocked, so everyone will have to walk on the day of Sinulog. Keeping that in mind, a large bag full of extraneous items is probably not something you want to lug along. To have a stress-free Sinulog, make sure you have the following items on hand: cash, a hat or umbrella, sunblock, wet wipes, tissues, and water.
Stay Vigilant
Keep both yourself and your device/s safe. Remember that you will get wet and that paint will get on you. Protect your electronic devices using plastic wrap or any other packaging you have.
Let Loose and Enjoy!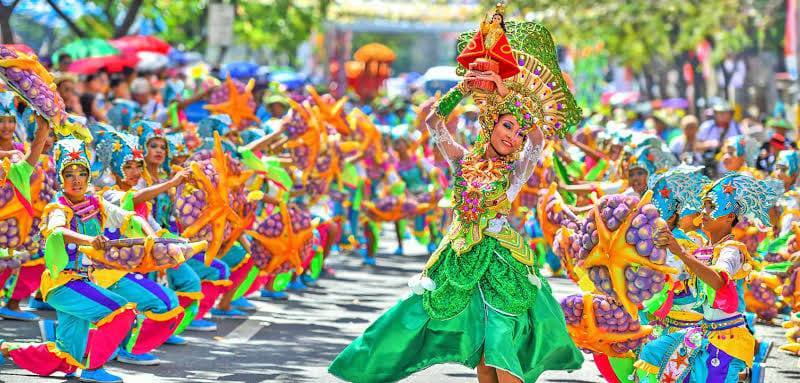 Image from Sugbo
Sinulog is a time to celebrate the local culture, so be sure to take in the vibrant colors, lively music, and delicious food that will be on exhibit. Continue to enjoy yourself even if someone is going to shove you or tread on your foot. Let it go, and have fun!